PART NO : TC3475
​
---
*THIS IS THE 'POST MAY 2021' UPDATED VERSION*
---
APPLICATION :
SAF Holland Rigid Mount - designed for enhanced wear resistance. Used for On & Off road applications.
All SAF Holland pintle hooks are forged from quality alloy steel, tested for safety, heat treated for durability, and are offered for specific capacities and applications.
---
FEATURES :
Austenitic Manganese steel alloy body for enhanced wear resistance.
Unique one-handed latch operation.
Plunger/snubber force is developed by the vehicle's air system to reduce wear and to provide shock absorption.
Adjustable plunger.
Can be operated with or without the air chamber.
---
D-VALUE : 165 kN.
---
MAX VERTICAL LOAD: 8,164 kg / 18,000 lbs.
---
MAX GROSS TRAILER WEIGHT: 32,658 kg / 72,000 lbs.
---
DRAWBAR EYE DIMS:
I.D. - 2.38" to 3"
Dia Section - 1.25" to 1.63"
---
For severe off-road applications, reduce the above maximum capacities by 25% and use with a swivel-mount drawbar.
---
REPLACEMENT AIR CHAMBER:
TC3479
REPLACEMENT JAW:
TC3504
REPLACEMENT PLUNGER:
TC3478
---
SIZE GUIDE: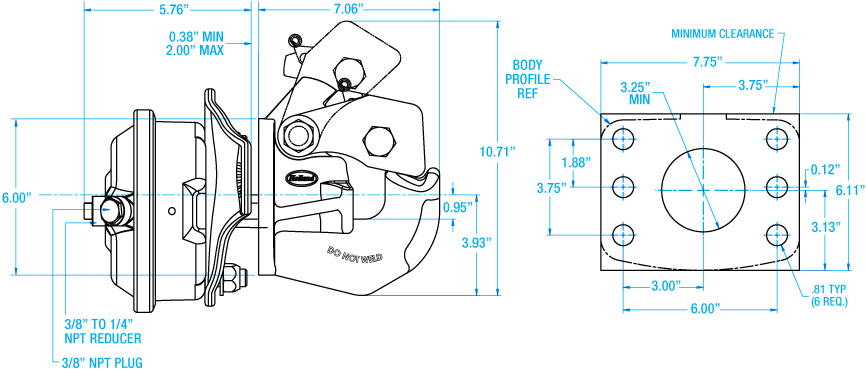 Pintle Hook & Air Chamber - SAF Heavy Duty PH300 165kN.
Brand: SAF Holland
Product Code: TC3475
Availability: 2-3 Days
$1,760.00

$1,430.00

Ex Tax: $1,300.00
Related Products