PART NO : AB8422
​
---
SR5 Spring Brake Valve
The SR-5 is almost identical in appearance to the SR-2. The distinguishing characteristic of the SR-5 is a hole drilled into the flat surface between the pressure protection valve and the body.
---
MODEL: SR5
---
PORTS: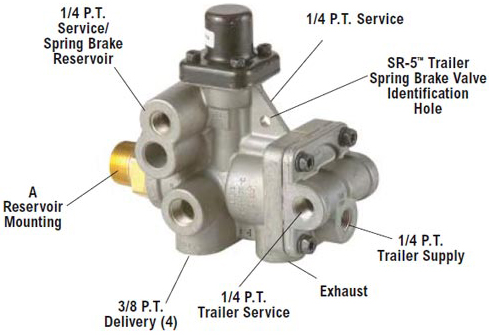 ---
REPLACES: 109539, 065549 109620
---
CROSS REFERENCES: 109615, 065437, 65437, 102831, 109615, 65437, ABC109539, SR-5
A cross reference listing means that this valve is a suitable replacement for the part numbers listed. Some changes in air line plumbing may be required.
SR-5 Trailer Spring Brake Valve
Brand: SCTEG Parts
Product Code: AB8422
Availability: In Stock
$132.00

$115.50

Ex Tax: $105.00