PART NO : AB5601
​
---
1" BSP Male Coupling - Stucchi IRC Series
PC Version​
811500017​
---
​SIZE GUIDE: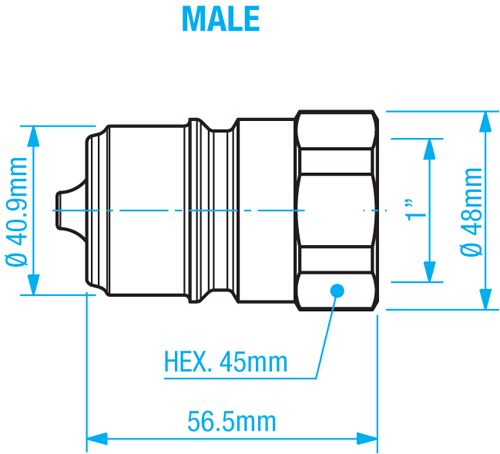 ---
BENEFITS
Connection under residual pressure is allowed in the male or in the female (PC version). Please notice that the counterpart side should be drained and should use a standard poppet half.
The poppet valve with elastomer seal provides maximum sealing of the couplings once disconnected.
O-Ring + BackUp ring for optimum protection sealing.
Specific dimensions of Stucchi IRC series are certified with Lloyd Type Approval in accordance with API 16D at specific rating pressure of 207 bar/3000 PSI.
Additional O-Ring for extra sealing capacity and to contain spray effect to avoid soil contamination.
High durability.
Reference products for tough applications, typically used in Nordic countries.
Safety sleeve to prevent accidental disconnection.
Shape of internal parts is optimized to reduce turbulence and pressure drop.
High resistance to pressure impulses.
Compact design.
Simple to use.

---
HOW TO USE
Before connection, clean the mating surface of the couplings to avoid dirt inclusion in the circuit.
To connect: pull back the sleeve of the female coupling, align the female with the male coupling and push one into the other until both halves are fully connected and release the sleeve.
To avoid accidental disconnection rotate safety sleeve.
To disconnect: unlock the safety sleeve and pull back the sleeve of the female coupling, pull out the mating half.
---
MAIN APPLICATIONS

1" BSP Male Coupling, PC Version​ - Stucchi IRC Series
Brand: Stucchi
Product Code: AB5601
Availability: In Stock
$116.60

$95.70

Ex Tax: $87.00
Related Products