Wheel Chocks / Rubber Stops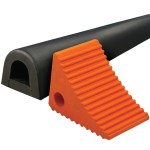 DOCKING RUBBER
Heavy Duty shock absorbent rubber helps to prevent damage to your Truck / Trailer, Cargo & docking bay.
Available in - Flat & Round D shape versions, heavy duty & standard grades.
Also known as -
Moulded Docking Buffer
Rubber Bump Stop
Docking Rubber
---
WHEEL CHOCKS
Essential safety item for vehicles - prevents rolling during maintenance, repair or storage.
We offer both Reinforced Rubber and Light Weight Polyurethane versions, both are engineered to minimize sliding & provide a sure grip on virtually any surface.
All-weather construction for reliable performance in any climate
Nonslip surface provides superior traction
Oil resistant
Come in both light weight & heavy duty varieties
---
Showing 1 to 10 of 10 (1 Pages)