Load Binder Dogs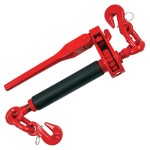 Loadbinder Dogs, Ratchet dogs & Web dogs are an easy and efficient means of tightening chain used for lashing purposes. We have a wide range of Dogs to suit various transport chain sizes (6mm to 13mm), all are durable and highly effective in taking up the slack when applied to a chain system.
---
FEATURES :
Manufactured from tempered dropped forged steel, heat-treated for extra strength.
​Short reach hooks provide optimum take up​
Safe, durable, and specifically designed for transport use.
Comply with AS/NZS 4344:2001. ​
---
Showing 1 to 12 of 12 (1 Pages)