Bearings - Timken / Meritor / BPW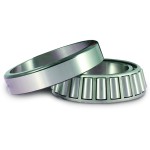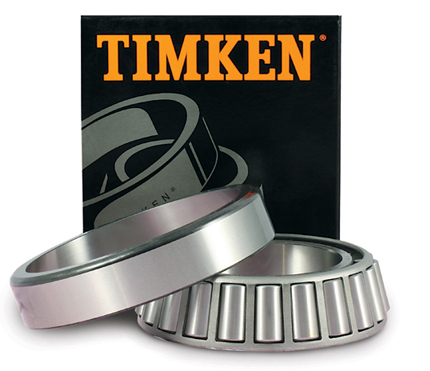 RELIABILITY. Expert craftsmanship, well-equipped production facilities and an ongoing investment in technology ensure Timken products are synonymous with quality and reliability. Timken roller bearings stand up to extreme situations, including high-corrosive, high-temperature, vacuum or low-lubrication environments.
VERSATILITY. Use Timken tapered roller bearings to help your equipment excel when it faces combined radial and thrust loads. Timken bearings are uniquely designed to manage both types of loads on rotating shafts and in housings.
DESIGN. Each tapered roller bearing contains four interdependent components: the cone (inner ring), the cup (outer ring), tapered rollers (rolling elements) and the cage (roller retainer).Tapered angles allow our bearings to efficiently control a combination of radial and thrust loads. The steeper the outer ring angle, the greater ability the bearing has to handle thrust loads.
---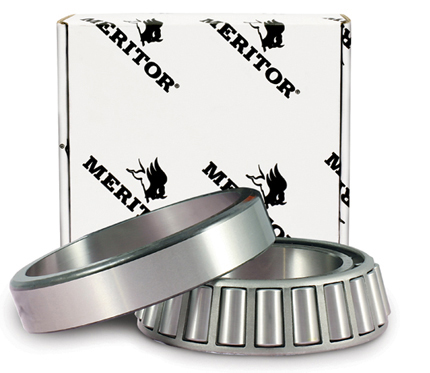 Meritor's premium-tapered roller bearings for wheel-ends are an all-makes solution for multiple applications including steer, drive and trailer axles.
Meritor bearings are manufactured with high-grade steel and are through-hardened for added tensile strength. To safeguard against contaminants, each bearing is packaged in individually sealed and wrapped plastic bags. Select wheel-end sets include intermediate plastic between the cup and cone for added protection during transportation.
All Meritor bearing solutions offer exceptional reliability, long life and full interchangeability with other manufacturer's bearings.
• COST EFFECTIVE
• HIGH QUALITY
---
TRAILER AXLES BEARINGS
MAKE
AXLES
INNER
CONE
INNER
CUP
OUTER
CONE
OUTER
CUP
Fuwa K Hitch
T.M.C.
Taper Spindle
AP0611
HM218248
AP0610
HM218210
AP0609
HM212049
AP0608
HM212011
Meritor
Rockwell
RN. TN. ATN. & 15"
AP0611
HM218248
AP0610
HM218210
AP0609
HM212049
AP0608
HM212011
Meritor
Rockwell
TL. ATL.
AP0607
655A
AP0605
653
AP0609
HM212049
AP0608
HM212011
Fuwa K Hitch
Fruehauf
Parallel Spindle
Propar
AP0615


HM518445

AP0614
HM518410
AP0615


HM518445

AP0614
HM518410
Fruehauf
Round & I Beam
AP0602
593
AP0601
592A
AP0613
HH506348
AP0612
HH506310
Freighter
MK 4 (Late) & MK 5
AP0631
32217
AP0630
32215
York
Taper Spindle
AP0611
HM218248
AP0610
HM218210
AP0609
HM212049
AP0608
HM212011
Eaton
JE-501-LJE-07-L
AP0611
HM218248
AP0610
HM218210
AP0609
HM212049
AP0608
HM212011
Eaton
E34 15"
AP0607
655A
AP0605
653
AP0609
HM212049
AP0608
HM212011
Rubery Owen
Early Spider
& Stud
AP0606
663
AP0605
653
AP0609
HM212049
AP0608
HM212011
Maxus
Spider & Stud
AP0611
HM218248
AP0610
HM218210
AP0609
HM212049
AP0608
HM212011
R.O.R
Rubery Owen
Late Spider & 15"
AP0607
655A
AP0605
653
AP0609
HM212049
AP0608
HM212011
R.O.R
Rubery Owen
Late Stud
AP0607
655A
AP0605
653
-
641
-
632
Standard Forge
20" & 15"
AP0611
HM218248
AP0610
HM218210
AP0609
HM212049
AP0608
HM212011
DANA
20" & 15"
AP0611
HM218248
AP0610
HM218210
AP0609
HM212049
AP0608
HM212011
McGrath
Taper Spindle
AP0607
655A
AP0605
653
AP0609
HM212049
AP0608
HM212011
Haulmark
Reyco Ingersoll
AP0606
663
AP0605
653
AP0609
HM212049
AP0608
HM212011
BPW
EHZ9000
AP0632
33217
AP0633
33213
BPW
6.5 - 9 Tonne
Eco, HR, KH, KR, NH, NR. Eco,
Eco-Max, Eco Plus. SH, SKH
AP0670
33116
AP0671
32310
BPW
10 - 12 Tonne
Eco, HR, KH, KR, NH, NR. Eco,
Eco-Max, Eco Plus. SH, SKH
AP0650
33118
AP0633
33213
BPW
10 - 12 Tonne
HL, HLS, HR, KH/HR,
NH, NR, HL, HLS.
AP0650
33118
AP0633
33213
NOTE:
For Timken bearings add "T" to the end of part number eg. AP0610T.
For Timken bearing set (Cup & Cone) add "KT" to the end of part number eg. AP0610KT
For Meritor bearings add "M" to the end of part number eg. AP0610M.
For Meritor bearing set (Cup & Cone) add "KM" to the end of part number eg. AP0610KM
---
DRIVE AXLE BEARINGS
NOTE:
For Timken bearings add "T" to the end of part number eg. AP0610T.
For Timken bearing set (Cup & Cone) add "KT" to the end of part number eg. AP0610KT
For Meritor bearings add "M" to the end of part number eg. AP0610M.
For Meritor bearing set (Cup & Cone) add "KM" to the end of part number eg. AP0610KM
---
STEER AXLE BEARINGS
NOTE:
For Timken bearings add "T" to the end of part number eg. AP0610T.
For Timken bearing set (Cup & Cone) add "KT" to the end of part number eg. AP0610KT
For Meritor bearings add "M" to the end of part number eg. AP0610M.
For Meritor bearing set (Cup & Cone) add "KM" to the end of part number eg. AP0610KM
---
Showing 1 to 68 of 68 (1 Pages)